How do you send your run result?
Are you wondering how to send the result of your run? It is very easy! However, remember a few rules:
Time and distance must be visible on the photo/screenshot sent. It can be a screenshot of any application or a photo of the watch, where required data will be visible.
Enter the time exactly as it appears on the photo/screenshot sent to us (seconds are also important!).
If you have covered 10.2 km, enter the time for this distance, regardless of the fact that you had a different time for 10km.
If you run 10km in stages, remember to add a photo/screenshot to the results of each day only after completing the last stage and providing the correct total time of the entire challenge.
The file must be in jpg/jpeg/png format and have no more than 2MB.
We will randomly check results and its probability. All competitors with time giving places on the podium in each age category will be a subject to compulsory check.
If after submitting the result you are not visible in the results list, it may mean that you are waiting for the verification process.
The form for entering results is available here: https://live.sts-timing.pl/polishrun/add-result.php?lang=en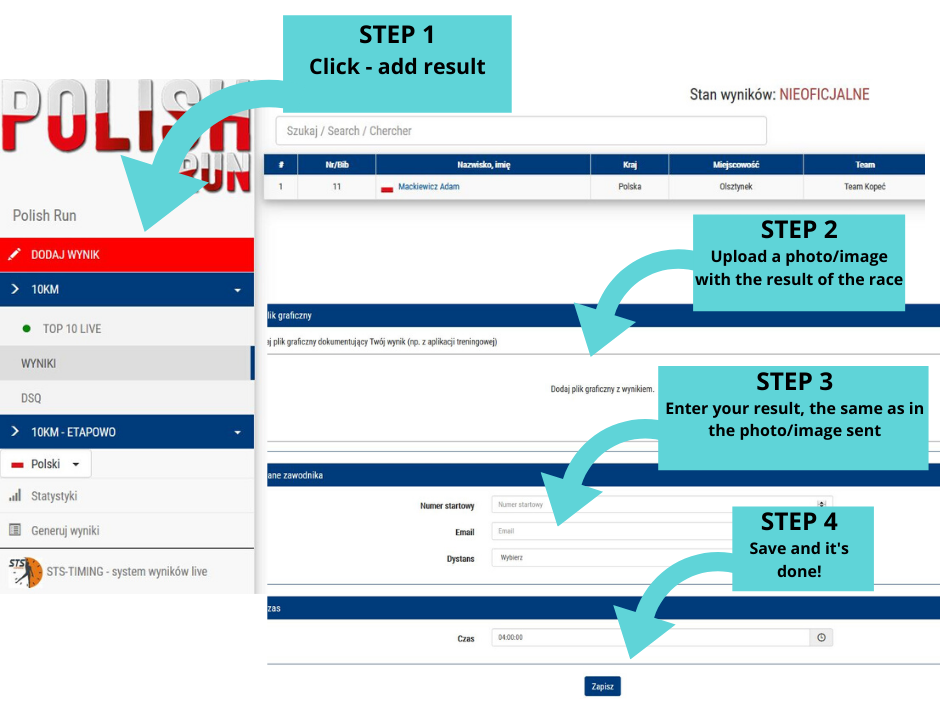 Have fun! There is still a lot of time to complete #PolishRun. The competition ends on 20 of July.